Welcome to our blog and first edition of our newsletter. Today we're excited to talk about our newest product, the Bamboo Murabba. Murabba is made of traditional Indian sweet preserve that's made with fruits, vegetables, sugar and honey. Our Bamboo Murabba is a unique mixture of this classic recipe that's both healthier and nutritional.
Our Bamboo Murabba is completely preservative-free. Unlike most store-bought murabba are loaded with artificial preservatives to increase shelf life, our Bamboo Murabba is made with only natural ingredients. We use fresh bamboo shoots, sugar and honey to create a delicious and healthy marmalade that's free of any harmful chemicals.
We take product quality very seriously, which is why our Bamboo Murabba is vacuum packed to enhance the quality and freshness of the product. Vacuum packing is an eco-friendlier material because it's recyclable (outside box) and doesn't leach harmful chemicals as all our material is food grade. This also allows the customer to store or keep the murabba upto 3 years if kept packed and sealed.
Bamboo Murabba has the following advantages over others: –
It is completely natural.
No artificial colors.
No preservatives.
We use the best ingredients.
Environment friendly.
Prepared in small batches.
Freshness intact as Vacuum packing is used.
There are a lot of health benefits of bamboo shoots. Bamboo is a rich source of dietary fiber, which can help promote digestive health and prevent constipation. They are low in calories and fat, which makes them a great addition to a weight-loss diet. In addition, they're rich in vitamins and minerals, including vitamin B6, potassium, and manganese.
In the end, The Nav Orgenik Bamboo Murabba is a healthier and more sustainable. It's preservative-free, lower in sugar, vacuum packed, and made with all-natural ingredients. So next time you're looking for a healthy and delicious snack, give our Bamboo Murabba a try. Your taste buds and the planet will thank you!!!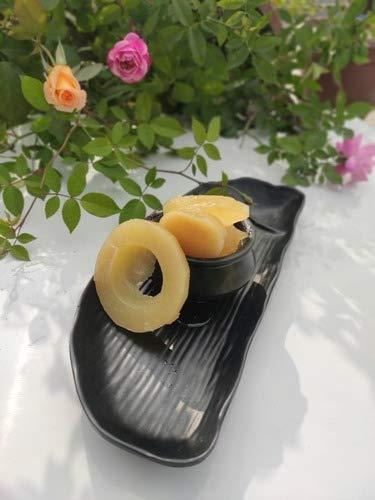 Welcome to our blog and second edition of our newsletter.
We Indians love pickles, don't we? No Indian meal is complete without a piece of one's favourite pickle and well who doesn't love a perfect slice of mango pickle?
It's not usual for poets to write paeans to pickles, but you would have to agree that the mango pickle, with its tart flavour and heady aroma, deserves that extra bit of praise. In fact, scholar KT Achaya in his book, Indian Food: A Historical Companion, mentions a couple of lines written by Annaji in Soundara Vilasa, about a domestic meal way back in AD 1600. "There was mixed rice, kattogara and kalasogara; a sweet payasam… a pickle of tender mangoes, the stalks of which had not even lost their fresh green colour," Annaji writes in Kannada.
Over centuries, the mango pickle has evolved in households across the country, with each region adding its own special touch to the preparation — from the marmalade-like chhundo in Gujarat to the fiery avakkai of Andhra.
We only wish our favourite pickles were not loaded with artificial preservatives.
Mango pickle remains by far the most common pickle and the taste profile can vary from home to home and brand to brand. One is not necessarily better than the other, but the preservative component can add a different dimension entirely.
The very mention of aam ka achaar triggers a physical response — lips puckering at the recall of brine and teeth teetering on tanginess — but also a plethora of memories: of courtyards filled with a gaggle of women, exchanging gossip and news over heaps of raw mangoes, of running across the terrace as a child and slyly picking up a pale yellow slice, left out to dry.
Nav Orgenik vacuum packed homemade pickles and murabba started looking at minimising the use of preservatives and rely on ingredients such as mustard oil that acts as a natural preservative.
All our memories of school lunchboxes are redolent of aam ka achaar, duly stained with turmeric and spice-infused oil or be it our train journeys.
The end product is only as good as the raw material so the selection of fruit and securing the quality supply, as usual, is always the focus area as we enter the mango season.
The chosen mangoes are cut and soaked overnight with a generous application of salt, usually overnight but it may need to be extended as needed to achieve the optimum level.
The following morning, the raw cut mango slices go through another round of fruit selection and dried in the sunlight. Once dried, the pieces are ready to mix with selected species as per the region.
As we have mentioned before, our spices are all made from scratch and grounded at home before these are mixed with pure mustard oil.
Once the raw cut dried mangoes are mixed with spices and mustard oil, they are placed in sunlight for a second round for sunlight to work its magic.
It is essential that you keep a close eye to know the right moment when you need to remove the pickle and bottle it for use. If you are unsure, ask your mother, grandmother, or mother-in-law? Nine times out of ten, they know it right off the bat.
Or you can avoid the hassle entirely and just head to Nav Orgenik to order yours now? From our home to yours, with all our love.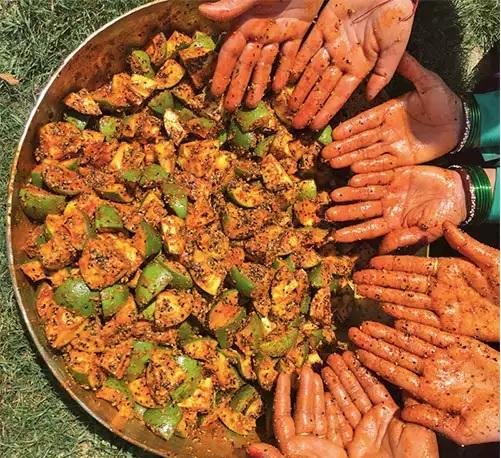 What is Amla Murabba, how to make it, and why it is a daily must-have in winter?
Welcome to our blog and third edition of our newsletter.
01/4What is Amla Murabba?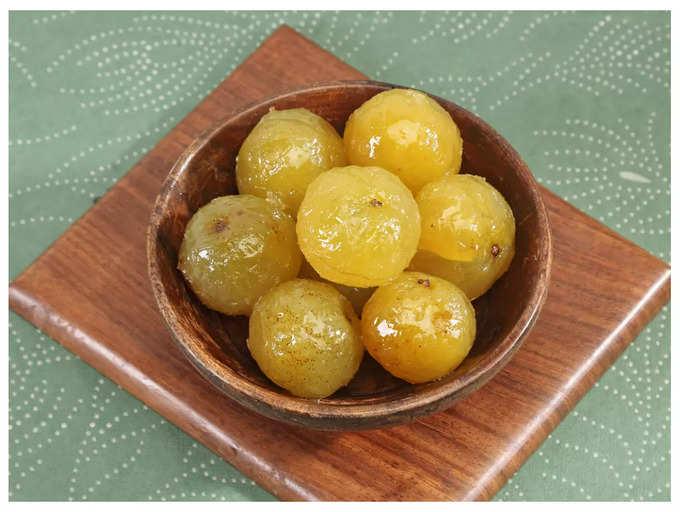 The best thing about winter is, you get to enjoy a lot of seasonal flavours loaded with benefits. One such seasonal fruit is 'Amla' (gooseberry). It is an indigenous fruit that has a long tradition of being used as a therapeutic fruit across the world. While this seasonal fruit is often used to make chutney, there is a snack that is made with amla and requires very few ingredients. It is called Amla Murabba. Here's how you can make it at home and enjoy this winter.
02/4​How to make Amla Murabba
To start, wash 20 amlas and then prick them with a fork at regular intervals. Soak them in water overnight along with 2 tbsp alum (phitkari). This will help remove the bitterness of amla. Next morning, boil enough water in a deep pan and add the amlas. Make sure they are soaked completely. Boil for 30 mins and then drain and keep the amlas aside. Next, dissolve sugar in 4 – 6 cups of water and make syrup. Add boiled amlas and cook over a slow flame for about 45 – 60 minutes or until amlas turn spongy and soft. Allow the mixture to cool down, cover, and keep them in a dry place for at least 48 – 72 hours. After that once again boil the mixture till the syrup reduces to 2 string consistency. Add a few strands of saffron and 2 tsp of cardamom powder. Allow them to cool down and your homemade healthy Amla Murabba is ready. Store them in a clean glass jar for 12 months.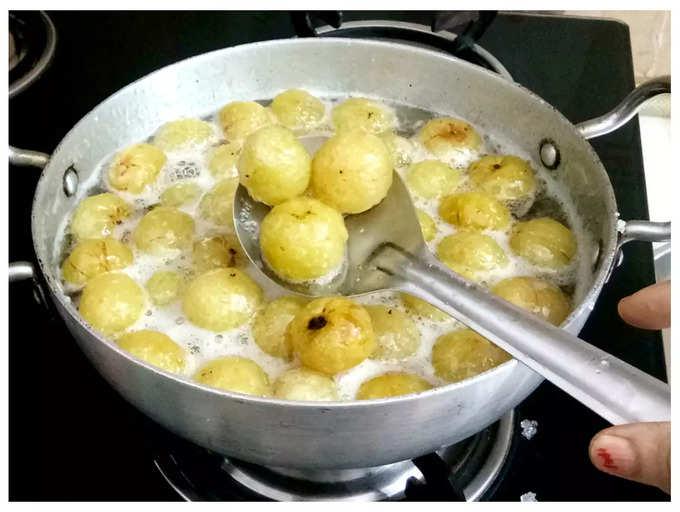 03/4Benefits of eating Amla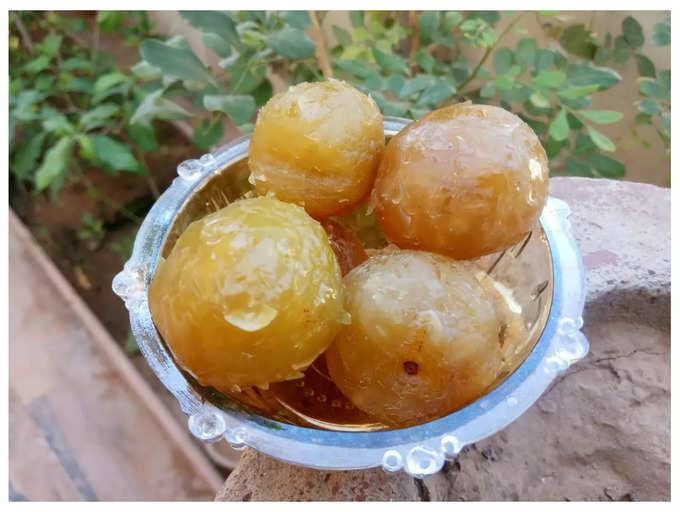 According to a lot of nutritionists, regular consumption of amla in winter helps prevent colds, coughs, and flus and even helps recover from such illnesses. It also helps burn fat, improves insulin sensitivity, and regulates blood sugar. Amla regulates the production of cholesterol and has cardio-protective abilities. It is also useful for those who have a tough time waking up, are around puberty, have bad PMS or endometriosis.
04/4 Other uses of Amla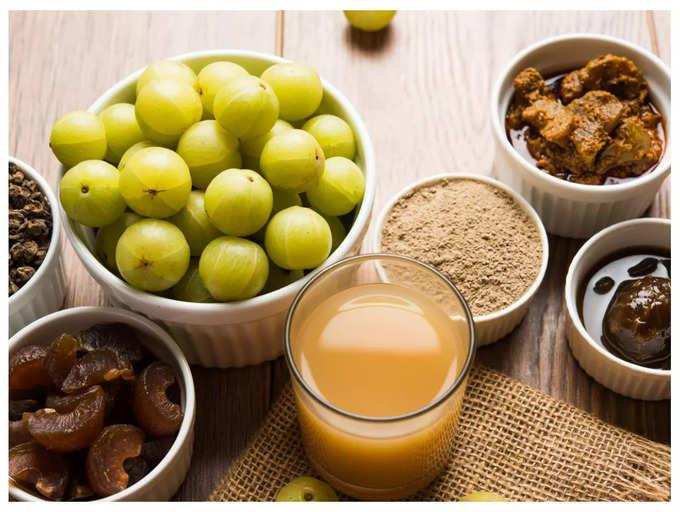 You can also use Amla to make chutney, dip, sharbat, pickle, and chyawanprash and they all are good for the human body in all seasons.
So next time you're looking for a healthy and delicious snack, give our Amla Murabba a try. Your taste buds and the planet will thank you!!!